Elders and Youth Caucuses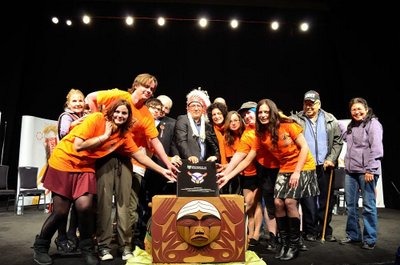 We are looking forward to welcoming Elders and young people from across Canada, Aotearoa New Zealand, Australia, parts of the U.K., and possibly beyond. As this summit knits together Past, Present and Future, Elders and youth (18-30 yrs) are key to this gathering. The Elders' wisdom and deep knowing of life will be important in guiding the Network's protocol and unfolding vision, whilst the aspirations, and perspectives of our young people will help shape its future directions.
These generational and intergenerational conversations are key to our summit, weaving their way through the gathering from beginning to end. Starting on our pre-summit day, Elders will share a day together on the Land, whilst youth will gather for a day of sharing and fun. Our Local Elders are shaping our Elders caucus, whilst the British Columbia Association of Aboriginal Friendship Centres is working with us to coordinate our youth input. Paying attention to Elders' wisdom and fostering the leadership of our young people will help ensure our network is strong, vibrant and effective in fostering resilient places and resilient people. More details of this part of the Summit will be available soon.